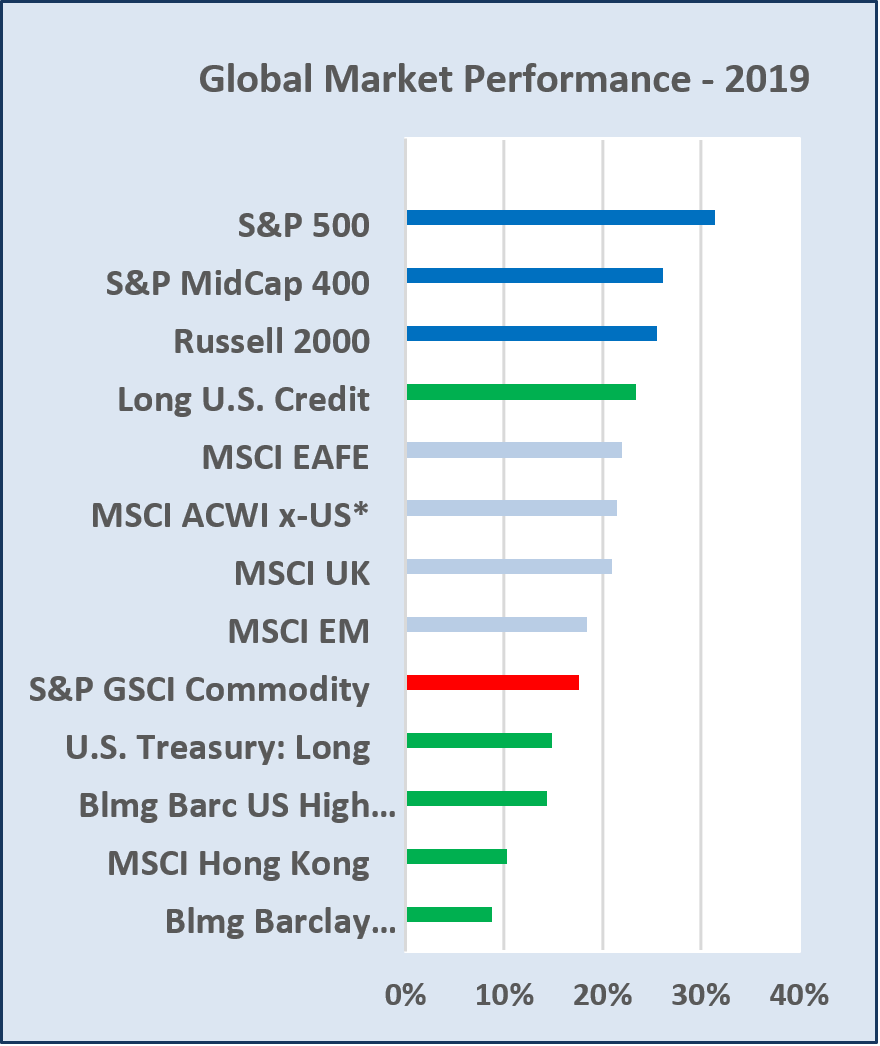 The Federal Reserve's about-face, from raising interest rates in 2018 to lowering them three times in 2019, played a major role in the spectacular rise of asset prices in 2019.  Stocks, bonds and commodities all produced positive returns.  In the bull market's 11th year, the Standard & Poor's 500 set 35 record closes to end 2019 up 31.5%.  Outside the U.S., the MSCI EAFE Index of developed markets ended the year up 22.0%, and the MSCI Emerging Markets Index rose 18.4%.  Globally, 75% of stocks had positive returns.  Bonds were also winners in 2019 as 97% of the bonds in the Bloomberg Barclays U.S. Aggregate Index registered gains and the index ended the year up 8.7%.
Domestic stocks and bonds outperformed their overseas counterparts, thanks to a better economy, strong dollar and bond yields that, while meager, were giant in comparison.  Federal Reserve Chairman Jerome Powell signaled an on-hold stance going forward barring any meaningful change in economic data.  According to Evercore ISI, to avert a repeat of September's bank funding problems in the REPO market, by year-end the Fed had expanded its balance sheet by $400 billion, further fueling the stock market's fourth-quarter rise.  The European Central Bank and Bank of Japan also expanded their balance sheets aggressively.  Each targeted negative interest rates that, by year-end, had been reduced by $6 trillion from $17 trillion at the peak in late August.
Unprecedented low interest rates have allowed the private and public sectors to borrow cheaply.  U.S. corporations have issued bonds to repurchase shares, arbitraging the cheaper cost of debt against equity capital.  According to DataTrak Research, some 334 of the S&P 500 companies shrank their outstanding shares in 2019.  Low interest rates have also allowed companies to use debt to finance Mergers and Acquisitions.  Global M&A deals totaled $3.9 trillion in 2019, nearly half of which involved U.S. targets.  Private Equity and Real Estate groups have been willing to take on larger and more complex target companies due to cheap debt and large inflows from pension funds and other investors seeking high returns in a low interest rate environment.
Low interest rates and continued Quantitative Easing (QE) have created enormous distortions, encouraged misallocation of capital, destroyed the hopes of savers and decimated the prospective returns of pension funds and insurance companies.  Challenging stock valuations have made the margin for error, and for opportunity, smaller.  Soaring federal deficits, ageing populations in Japan, China and other emerging markets, maturing corporate and Treasury debt plus geopolitical issues are all factors to consider as the next decade takes shape.
U.S Equity Environment
Stock markets in the U.S. ended 2019 with all-time highs, while market volatility touched multiple lows throughout the year.  Big drivers of strong stock returns were low interest rates, a favorable economic outlook and a strong consumer market that accounts for about 70% of GDP in the U.S.  Low interest rates support higher stock valuations by making future earnings worth more when discounted back to the present at a lower rate.  The S&P 500 ended the year with a twelve-month forward price/earnings ratio (P/E) of 18.2 times, just shy of its all-time high of 18.3.  However, the S&P 500 leapt last year not because of corporate profits that were essentially flat at 0.6%, largely caused by slowing business due to trade and tariff issues, but because of financial engineering that reduced the number of shares outstanding and increased earnings per share.
About 90% of the stocks in the S&P 500 rose in 2019 and the Index set 35 record highs to close the year up 31.5%.  Mid- and small capitalization issues also posted strong returns with the S&P Mid-Cap up 26.2% and the Russell 2000 up 25.2%.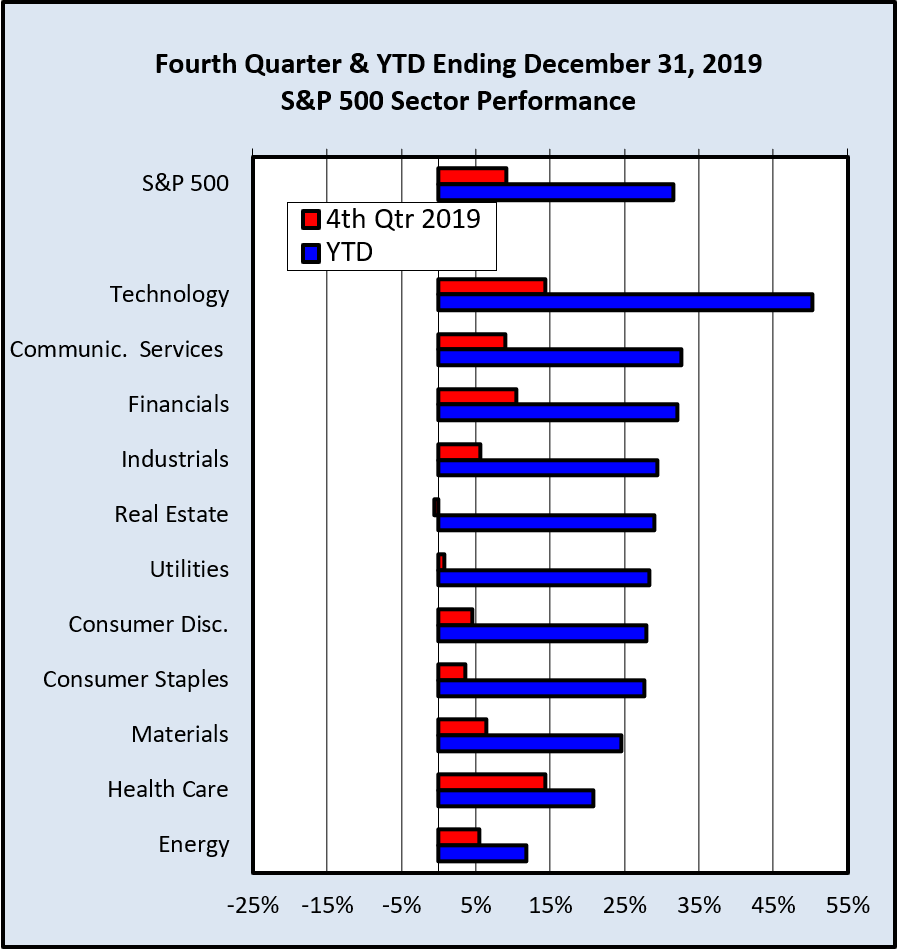 The S&P 500's gain was driven by a handful of big technology stocks, including Apple, Microsoft, Visa, MasterCard and Oracle that comprise about half of the information technology sector that rose a remarkable 50.3% and has powered the decade-long bull market with the biggest gains among the S&P 500's 11 sectors.  Two of the biggest U.S. publicly traded companies with market values in excess of $1 trillion, Apple and Microsoft, rose 85% and 55%, respectively.  While the low rate environment weighed on financials, the group rose 10.5% in the final quarter, lifting it to the third best sector for the year, up 32.1%.  Headline regulatory risk dampened interest in the health care sector for most of the year even though the stocks had some of the strongest earnings sentiment, based on analyst revisions, and was expected to have the strongest earnings and revenue growth for all of 2019.  With the impeachment hearings derailing any legislation on health care reform, the health care sector rose 14.4% in the final quarter but turned in the second worst performance at 20.8%, about double the laggard energy sector's 11.8%.
Fixed Income Environment
2019 turned bond market logic on its head.  By year end, global debt with sub-zero yields had declined to $11 trillion, as a thaw in U.S.-China trade tensions brightened the world economic outlook and interest rates edged higher in December.  According to Bloomberg, 27 countries had negative interest rates at year end.  Europe accounted for $5.8 trillion, led by France and Germany with $1.6 trillion each; and Japan accounted for $4.8 trillion.  The 2-Year German bund ended the year with the lowest yield globally at -0.62%.  At one point in 2019, Germany's entire bond market had sunk below a zero yield.
During 2019 bond yields remained mired within a narrow range of all-time lows.  In the U.S., the 10-Year U.S. Treasury yield settled at 1.92% down from 2.69% at the beginning of the year.  That's not far from its all-time low of 1.3% hit in July 2016, but it is still about two percentage points higher than the yield on government debt in Japan and Germany where the recovery has advanced even more erratically than in the U.S.  The yield on the U.S. 30-Year Treasury dropped from 3.02% at the beginning of the year to 2.39%.  Due to the relatively higher interest rates paid on U.S. Treasury bonds, demand from foreign investors, albeit reduced, is likely to keep a lid on interest rates.
The Bloomberg Barclays U.S. Aggregate Bond Index rose 8.7% in 2019, with positive returns across all sectors.  Corporate bonds rallied the most, with investment grade corporates up 14.5%.  Investor's appetite for yield fueled a return of 14.4% in the high yield market.  Long-term corporate bonds benefited from declining interest rates and rose 23.4%.  At year-end, corporate bond spreads, the difference between corporate yields and Treasury yields of like-duration, were as narrow as they have been in a long time; a signal of sanguine credit returns and higher risk ahead.  Long-Term U.S. Treasury bonds delivered a 14.8% return.  Emerging market bonds rewarded investors with a 15.0% return in 2019, benefiting from strong inflows due to attractive interest rates and improving corporate governance and sovereign fundamentals.  European bond yields were among the lowest in the world, but investors still eked out a positive return as measured by the JPM Non-US Global Bond Index (unhedged) that rose 5.2%.
While the Fed's accommodative monetary policy has had the desired effect on asset prices, it has helped facilitate a surge in debt across fixed income markets but without spurring inflation to its Core PCE's 2% target.  Post-crisis regulatory changes have fundamentally altered market structure away from market makers to mutual funds and ETFs that have become a larger part of the fixed income market.  As a result, adequate supply may be difficult to source or may evaporate quickly when market conditions shift.  In the aftermath of the repo rate spike in September, the Fed committed to $120 billion in daily overnight repo operations and $35 billion in 2-week term operations twice a week to relieve stresses from increased demand and reduced supply of cash in the short-term funding markets.  The Fed will continue buying Treasury bills at least into the second quarter to maintain control of the federal funds rate.
International Equity Environment
International stocks rose 21.5% in 2019, measured by the MSCI ACWI ex-USA Index, but have lagged their U.S. counterparts eight years over the past decade.  A strong U.S. dollar was one reason for non-U.S. stocks' underperformance, but political turmoil and trade tariffs also played a part.  Of the top 50 companies by market capitalization a decade ago, 16 were European.  Now, only seven are.  European companies have not captured the benefits of M&A-driven growth and scale due primarily to geopolitical uncertainty linked to the UK's pending departure from the EU.  The UK ended the year up 21.0%, with half of the return in the fourth quarter.  The MSCI Europe Index finished the year up 24.8% for its biggest gain since 2009.  Hong Kong's shares ended the year 10.3% higher despite months of clashes between antigovernment demonstrators and police.  Hong Kong's year-over-year GDP growth turned negative in the September quarter and retail sales were down 24% as of October.
Thus far, overseas economies have borne the brunt of protectionist policies that have been spreading throughout both developed and emerging market nations.  The global slowdown that took hold in 2018 deepened in 2019, prodding virtually all central banks to ease credit conditions that drove short-term interest rates into negative territory.  Germany is on the brink of recession and is dragging the rest of Europe down with it.  China is suffering its slowest growth rate in three decades, inflicting hardship on its regional neighbors and trading partners.  The IMF, OECD, and the ECB have all lowered their global growth forecasts for 2020.
With world-wide central bank policy rates at the zero bound or even negative territory, it is highly unlikely that further reductions will stimulate growth.  There is a growing body of research showing that negative rates do more harm than good, as they vaporize bank profits and choke off credit availability.  Overseas there is a growing movement to leverage central bank efforts with "helicopter money," i.e. having the central bank print money to finance additional fiscal stimulus.  Negative interest rates, stock buybacks to raise valuations, and the idea of printing copious amounts of money out of thin air run contrary to reason.  A recent Deutsche Bank analysis shows that the major global economies now have an average government debt of more than 70% of GDP, the highest peacetime level in the past 150 years.