Despite an uninterrupted string of assaults on propriety, civilized discourse, and common courtesy during 2017, investors kept their bearings and maintained their focus on facts and fundamental developments such as corporate earnings.  The almost nine-year upsurge in markets continued through the close of the year as investors became increasingly convinced that synchronized economic stimulus was gaining traction on a broad scale.  As a result, almost all asset classes around the globe rose, including domestic stocks, international stocks, and to a lesser extent, bonds and commodities.  Despite unrelenting warnings of potential losses, fixed income generated decent returns led by longer duration corporate bonds that generated double-digit gains that would delight any stock investor.
The impetus for the rebound across asset classes was mainly provided by the dovish monetary authorities of the major central banks.  The Federal Reserve Bank, the European Central Bank and the Bank of Japan each bought trillions of dollars of bonds with the strike of a computer key.  The resulting suppression of interest rates will almost assuredly result in future distress when least expected.  Subdued volatility has lulled investors into complacency.  Stocks have experienced no meaningful correction and the bond market, despite three Federal Funds increases in 2017, remained calm.  At some point this period of low volatility is destined to end, hopefully without resulting in chaos.
The world will ultimately face the consequences from what was wrought by the unprecedented central bank interference in the interest rate markets.  In the U.S., the severe long-term financial effects rising from the unfunded entitlement programs, now about $100 trillion, must be addressed.  Future benefits will be impossible to meet without major structural changes, and change appears nearly impossible.
U.S. Equity Environment
Domestic stocks continued their vigorous upward trajectory in the fourth quarter as economic and corporate developments buoyed expectations.  The Standard & Poor's 500 Index rose 6.6% in the quarter, and 21.8% for 2017.  A premium was placed on growth stocks as Apple accounted for 7.4% of the S&P 500's return while the top five largest companies by weight in the index (Apple, Microsoft, Alphabet, Amazon, Facebook) accounted for 23.7%.  Volatility was extremely low all year with the VIX closing at 11.04.  The S&P MidCap index rose 16.2% and the Russell 2000 was up 16.8% for the year.  The U.S. economy continued to build momentum with the third quarter GDP registering an increase of 3.2%, bringing the year-over-year growth rate to 2.3%, up from 1.8% at the end of 2016.  Growth has been anemic for years and the improvement rekindled hope that the Keynesian "animal spirits" will reawaken and promote even faster economic activity.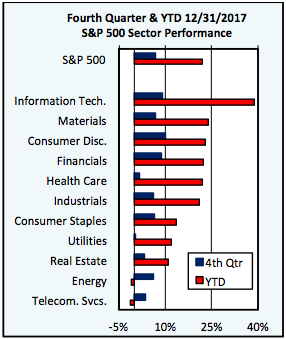 The S&P 500's fourth quarter was impressive in that all 11 sectors recorded gains.  Consumer discretionary was the quarter's top performing sector, rising 9.9% and  extending its 12-month gain to 23.0%.  Information technology, up 9.1% and 38.8% for the quarter and year respectively, benefited from optimism that a changed world was at hand. It was the S&P 500's and
S&P MidCap's best performing sector in 2017.   Laggards included utilities at a barely positive 0.2%, hurt by the prospect of rising interest rates, and health care was up only 1.5% in the quarter but rose 22.1% year-to-date.  Energy was 2017's only negative sector across all market capitalization ranges.  In 2017, seven of the 11 S&P 500 sectors outperformed their mid-cap and small-cap counterparts by the most since 1999.
It is both counter-intuitive and puzzling that the Federal Reserve should want to see increased inflation.  Non-inflationary growth should be the goal and had, in the past, been embraced by central bankers.  An inflation rate of "only" 2% reduces buying power by one-half in 36 years; at 4% it is cut by half in 18 years.  Despite the recent gain in economic activity, both the core CPI and the core PCE (Personal Consumption Expenditures) inflation numbers remained tame at 1.7% and 1.5%, respectively.  The core PCE, the measure preferred by the Fed, remained well below its nominal (and manufactured) 2% target.  The 5-Year/5-Year Forward Inflation Expectation, which is a five year forward futures contract on the second five years of a 10-year implied inflation rate, has recently increased to 2.1% which hints at rising inflationary expectations.  This is the highest projection put forth since last March and indicates that inflation is becoming a bit of a concern.  Budget deficits are certain to increase in response to lower tax revenues and increased expenditures, primarily within the Department of Defense.  Tax code changes are expected to provide a boost to overall economic growth and act as an impetus to capital spending and greater corporate profitability.
Stock market valuations are high by many historical measures.  Return expectations for the S&P 500 in 2018 range from negative to +12%.  Some stocks sell at very high prices in relation to earnings and sales.  Massive amounts of momentum money have been pulled from active managers to be invested in Exchange Traded Funds, indexed 401(k) target date funds and robo-advisors that purchase existing positions at index percentage weights, regardless of valuation.  It easier to source supply into a market that is going up than it is to create demand in a downturn.  As Warren Buffet famously said, "Only when the tide goes out do you discover who has been swimming naked".
Fixed Income Environment
Bonds generated solid returns across the board in 2017, including developed and emerging market debt.  Long-term interest rates generally declined due to demand from pension funds and insurance companies.  The Bloomberg Barclays US Aggregate index closed the year up 3.5% with corporate bonds outperforming Treasuries, mortgage-backed and asset-backed securities.  The Bloomberg Barclays US Credit index ended the year up 6.2%, powered by the US Long Credit index that turned in equity-like returns with a 12.2% gain.  In reaction to strong equity markets, the lowest quality Ca-D US High Yield index rose 13.8%.  Due to their higher yields and improving fundamentals, the JPM Emerging Market Bond index rose 10.3% in 2017.
Fixed income markets have been the focus of keen interest as questions over the Federal Reserve Bank's anticipated actions, the pace of Brexit, a sagging U.S. dollar, and a surge in the euro alternated in influencing investors.  Due to high levels of uncertainty, the bond market's extreme calm has surprised many.  Discerning investors separated relevant market signals from the abundant political noise, and remained focused on the synchronous improvement of growth and the absence of higher inflation.  Optimism appears to be well-founded based on the solid GDP growth of 3% over the past three quarters even though that growth has been supported by the activities of central banks that have borrowed from the future to bolster current consumption.  The vast amount of borrowing has driven bond yields to historic lows, and equities to record highs.  The Fed's balance sheet was about $840 billion at the beginning of the financial crisis in 2007.  It is now close to a staggering $4.5 trillion.  In addition, the European Central Bank, the Bank of Japan, and the People's Bank of China have increased their balance sheets by a shocking total of $14.5 trillion.  In all, about $19 trillion has been created to purchase debt.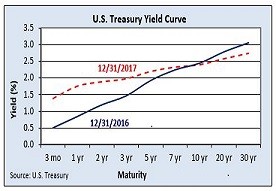 International Environment
The global economy continues to improve, and international market returns surpassed their red-hot U.S. counterparts in dollar terms.  The weak dollar was a significant story over the year.  For the second quarter in a row, all 45 countries tracked by the Organization for Economic Cooperation and Development showed year-over-year growth in the third quarter. This broad-based growth is an indication that world economic health continues to be on track.  In October the International Monetary
Fund again raised its outlook for world growth to 3.7% in 2018, up from 3.6% in 2017.  The U.S. has led the globe out of the recession and now the rest of the world is catching up.  China had the second best GDP growth of all OECD countries with a 6.8% gain.  The rate of advance has declined from years past but remains impressive.  Emerging markets have been strong and will continue to be among the leaders in future decades.  Expectations for emerging market growth are positive based on demographics and productivity; a powerful duo, and the only two ways that economic growth can be achieved.  An improving global economy and U.S. dollar weakness should be tailwinds for companies in a broad range of industries, from information technology to consumer goods, financials, and commodities.  Stability and reform seen in places like China serve to propel the positive trend and result in even greater investment opportunities.

In the last quarter of 2017, Emerging Markets rose a blistering 7.4%, outpacing the U.S. return by 310 basis points in dollars.  China registered a strong gain of 7.6% as the second largest economy in the world moves inexorably to become the largest.  Korea, still considered by some to be an emerging market, rose 8.2%.  Indonesia was up 8.3% and India rose 11.8%.  Overall, Far East emerging markets were a positive 7.9%.  Despite the 20-month long rally in emerging market equities, valuations at 13 times projected earnings, compared to 17 times for the MSCI World Index, are attractive and cash flows are positive and increasing.  European performance has lagged the rest of the world.  Europe finished the quarter up 2.2%.  The ECB was slow to respond to the financial crises but is fully engaged now.  It has been aggressive in its bond buying program, which has been extended into 2018, and kept short term rates in negative territory to further spur lending activity.  Euro zone GDP growth accelerated through the year and reached an annualized rate of 2.6% in the third quarter.  Conditions in Europe are improving, and the region attracted more investors in 2017.